Marinades are usually used for two purposes: to flavor and/or tenderize meat.
Tenderizing marinades are designed to add flavor and improve tenderness. In general, tenderizing marinades are used on chewier cuts like top sirloin or round steak. More tenderizing is achieved with longer marinade times. If you want to marinate for tenderness, keep meat in the marinade for 4-24 hours.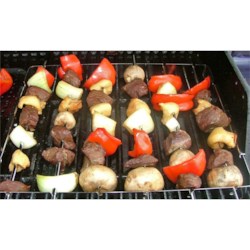 Sirloin, Chicken and Veggie Kabobs (photo from Allrecipes.com)
The following ingredients act as a meat tenderizer:
Citrus Fruit Juice - lime, lemon, or orange
Wine - red, white, or rice
Vinegar - basalmic or red wine vinegar, or rice wine vinegar
It is easy to create your own marinade recipe, using one or more of the above tenderizing ingredients, plus some coordinating flavor ingredients such as minced garlic, minced fresh ginger, freshly ground black pepper, thyme, or rosemary.
Refrigerate beef cuts while marinating, and use stainless steel or glass bowls to contain meat and marinade.
If you are busy like me and like to have marinades on hand make a large batch and store your marinade in a well marked jar. I also really like Newmans Own Marinades which use natural ingredients. Mesquite with Lime is my favorite!
Below is a basic Kabob recipe: For more great recipes visit my favorite recipe site Allrecipes.com